DID TRUMP AND PUTIN DISCUSS ALIENS AT THE SUMMIT?
HOME PAGE
Code Glossary & Basics
EVENTS OF 2021
2020 Events
MARS & ALIEN DISCLOSURE
2019 Events
2018, 2017 & 2016 Events
2015 and 2014 Events
2013, 2012 & 2011 Events
Contents 2: Code&Ark Issues
Contents 3B: Other Mars Science
Contents 3A: MarsCorrect
Contents 3C: Mars Codes
Contents 4: UFOs
Contents 5: President Trump
Contents 6: Obama
Contents 7: Israel
Contents 8: Time Travel
Contents 9: People (alphabetically)
Contents 10 - Generals
RON DESANTIS IN 2024
BIDEN'S CODE PORTRAIT
President - Enemy of State?
Biden & our Government betray us. Why?
ILLUMINATI
America Fallen 2
America Fallen 1, Gen. Milley & ET
American is Fallen 2
America Fallen
Letter to CERN & UK MOD
BIDEN LOSES AFGHAN WAR
Afghan Interpreter OBIDULAH AMIN
Biden Out of Control
General John Hyten
Senator Paul vs. Fauci
China Wants Japan Nuked
Reversing Time
REVIEW OF UAP ASSESSMENT
WHITE RAGE FOR GENERAL MILLEY
Milley & Critical Race Theory
Admiral Gilday's Treason
Salla's View of Ceres
Forbes, Code say China War Coming
Generals and Signals from Future
Generals and Admirals Condemn Biden
Tompkins & Sexy Aliens
Beirut Explosion & Date
DeSantis for President?
Giuliani Home Raid
Cryptocurrency Market Factors
Weak Biden & Taiwan's Fate
Muslim Noah Green Attacks Capitol
Poison Vaccine & Wuhan
Video: Alien Embryo in Meterorite
Ebrahimi/Sawicki Publication
Ebrahimi: The forest through the trees
China Slams Biden on Race
Mars Perserverance Credibility
Tony Fauci & Wuhan
Governor CUOMO Scandals
Video: Trump 4th Reich Enemies
Trump Torah Rumors
TIC TAC UFO
Annual Mars Report Update
Deep State & Biden's Reich
Remarks about January 6, 2021
Don Lemon
Biden Takes Oath 7 Shevat
Not at the Inauguration
Secret Space Program Economics
Why Are Durham and Barr Silent?
Decreasing fertility - A plot?
Ebrahimi, 4th Reich & Road Ahead
Ebrahimi & the Chinese Press
General Tata vs. the 4th Reich
UFO Hacker
Know Your Enemy: the 2020 Election
Facebook, Twitter & 4th Reich
Biden Cheated
Biden's Health
Joe Biden's Surrender Values
Clark McClelland Saga
Obama, Malcolm X & Hitler
TR-3B UFO
Mars Base
Trump Gets COVID-19
COVID-19 & THE 4TH REICH
Enemy of the State?
Ruth Ginsburg Dies
Durham Hides FBI results past election
HITLER & THE 4TH REICH
Hitler, Antarctic & UFOs
Biden Teleprompter
Rittenhouse, Pelosi & Civil War
2020 Asteroid Threat
Kamala, Reparations & Health Care
Alien Infiltration
Communist Obama, Creepy Biden
Chloroquine, Moderna, Vaccine&Meteorites 3/26/2020
Warning to China &Wickramasinghe
2020 Time Odyssey
Statues and Statutes
Bolton's Breakdown
Yoho Curses AOC
ANTIFA
De Blasio Out?
Star Wars: Air Force vs. Space Force
Finally...OBAMAGATE!
No Further Explanation
Chinese War Preview
Trump takes Chloroquine
Source of Covid-19 Radio Interview
Alien Embryo
EBRAHIMI E-Mails
Ebrahimi Attachments
PowerPoint Ebrahimi to Wuhan
Source of Ebrahimi Meteorites
Wickramasinghe & Wuhan 4/19/20
Boris Johnson & Wuhan 4/8/20
Wuhan Patient Zero 4/7/20
Ebrahimi Meteorite Virus? 4/1/2020
24,000 Dead by 1st of Nisan 3/27/2020
Remdesivir
Wuhan, Martial law & Milley 3/19/20
Israeli Vaccine for Wuhan 3/19/20
Meteorite & Kirkland 3/18/20
Wuhan Virus 3/29/20
Wuhan Virus & Stocks 3/2/20
Bloomberg & M. Obama
Pelosi Rips Speech
Ebrahimi rock
Secession from the Union
A DEAD AYATOLLAH?
Ukraine Airliner Downed
Threat to White House&Pentagon
GENERAL SOLEIMANI KILLED
SOLEIMANI UPDATE
Biblical Nanotechnology
Gen. Milley & Ocasio Cortez
Militias, Trump & Civil War
Leaker Vindman
Yovanovitch & Hunter Biden
Abu Al Ata Assassinated
WHISTLE BLOWER
Trump Tax Returns
John Durham vs. Deep State
General Milley Fighting ETs & Hyrbids
Netanyahu Mandate Fate
Code Politics and Art
Growing Civil War Talk
Trump Impeached?
Saudi Oil War
Beto O'Rourke & Guns
Bolton Report Card
Trump: Disloyal Jews
Hurricane Dorian
Epstein's Clinton Portrait
Michelle Obama in 2020
Epstein Death
Epstein& Clinton
Mueller & Fusion GPS
Video Games & Shootings
DNI Coats out Ratcliffe in & out
Martian Contamination
Omar: Impeach Trump
Einstein's dog
NY Blackout, Iran&Korea
EMP Attack & Transformers
Trump & Kim at DMZ
Iran War 2019?
MIRROR UNIVERSE.
Gold Asteroid Mission
Philly Oil Fire
John Paul 2 in WW2
Mexican Wall
Port Canaveral Threat?
N. Korean Ship Seized
Liberman brings down Netanyahu
Enemy Nadler
Future Barr Indictments
Barr vs. Obama&Clinton
List of my TV & Radio Shows
Huachuca tease
Sri Lanka Attack
Fall of Maduro?
Mueller Corruption
Israeli Election 2019
Israeli Moon Crash
ET & Time Control
Biden's Groping
Peter BUTTIGIEG
MARS LIVES!
Mike Cohen & Nuc War
Golan Heights & Gaza
Divided Goverment & UFOs?
Trump on Socialism
Ilhan Omar
Kamala Harris & Healthcare
Trump grounds Air Pelosi
National Emergency & The Wall
Warren 2020: Candidate or Lunatic?
MotherF Rashida Tlaib
Syrian Withdrawal
SecDef/General Mattis Resigns
Gen. Flynn & Judge Sullivan
Iran's General Mansouri
CIVIL WAR AHEAD
July 2018 Radio Interview
2017 Torah Codes Skype Interview
Macron & Merkel
Tijuana & MS13 Border
Angela Merkel
Mars InSight Lands
2 Crimes: Mail Bomber vs. Attack on Synogogue
Plastic Threat
Avenatti Arrested
U.S. Demographics
Khashoggi Murder
Algae/Oxygen on Mars?
Volcanic Eruption on Mars?
Jeff Flake, Obama&Mueller
Collins Confirms Kananaugh
Crazy Democrats
Brett Kavanaugh
Bill Cosby - Really Guilty?
Kurzweil & the Singularity
Radiant Face of Moses
Pope & Sex Abuse
Paul Manifort Trial
John McCain - Ever Abducted?
FBI raids Trump's lawyer
Ellison, Hitler, Jews&Insanity
Trump Not Establishment
Colonize Mars
Feinstein's spy driver
Secret Funding for Space?
Huachuca madness
Trump, Putin, Helsinki & ET
Lake on Mars
Rosenstein Impeached?
Maxine Waters
SPACE FORCE
Mars Dust Storms & Bacteria
Mars Correct - Connecting the Dots
Mars MAVEN
Jeff Sessions
Singapore Summit
Trump Nobel Prize
Bourdain Suicide
No Gay Wedding Cake
Helo to Mars
Inspector General
JERUSALEM EMBASSY
Kim frees 3
Quantum Entanglement
Iran's General Soleimani
Project Amad
Giuliani Mistake
ATOMIC TRAIN
Creator Decoder
Armageddon Assad Update
Gaza border fight
Kim surrenders nukes?
John Bolton
Stormy Daniels
Tillerson fired. Pompeo hired.
Brookhaven Natl' Lab
Tachyon Time
Climbing Mt. Sharp
Time Machine and Ezekiel
Shooter Nick Cruz
Tachyons & Wormholes
Arrow of Time
Steven Hawking
Mexico Wall
Uranium One
Trump calls Dems Treasonous
Deep State & Vatican
Eagles win Superbowl
Trump, Haiti & Truth
Peter Strzok & Comey
New California
Falcon Heavy Tesla&Mars
Popadopoulos Arrest
God from Future?
False Nuc Alarm
Andrew McCabe
Korean Olympics war threat
Jerusalem is capital
Bir El Abd, Daesh & Ark
Texas Church Massacre
Morgenthau for Vietnam
Schumer brought Sayfullo
Deep State
Level 3
Redirect Asteroid to North Korea
Vegas Security Guard
Steven Paddock
Robert E. Lee & Slavery
Korea, Guam & Atomic Holocaust
Kim, Obama & Iran Nukes
Korean Propaganda
FUTURE WARNING
China Economic War
Transgenders & Military
Trump Jr. & Russian Veselnitskaya
Otto Warmbier
Steve Scalise Shot
Trump & Paris Accord
Biden & Romney
Known terrorist & London Bridge
Code Names Manchester Bomber
Comey&Schumer Coup Attempt
CFR BrzezinskI
Mueller & Impeachment Attempt
Syrian Crematorium
TRUMP FIRES COMEY
President Ping & Korean War
MOABs against N. Korea
Obama Nobel
China-Korea Japan War
Korean Atomic War
Trump Attacks Putin&Assad
Kananpaa & Bogus Mars Weather
Rice&Obama spy on Trump
Ryan's Health care fails
Islam's Judas
Westminster Attack
THAAD missile shield
Obama wiretaps Trump
Enemy News
Trump, Musk & Mars
Fort Huachuca
Trump, Enemy Media & Insomnia
TRAPPIST-1 Solar System
General H. R. McMaster
Tom Price & ObamaCare Repeal
Australia& Obama attack America
Mike Pompeo at CIA
Jared Kushner
Manning Sentenced
CIA's John Brennan
Ft. Lauderdale ISIS Airport Shooter
DNC Hacker: Putin or Netanyahu
Alien Virus & Politics
Trump: Embassy to Jerusalem
Netanyahu: Israel out of U.N.?
Close the U.N.
Karlov assassination
Carrie Fisher as Leah
Aleppo, Syria
Obama Birth
Trump Administration
General Mattis: SECDEF?
Trump picks Viola For Army
Obama's Gay Sec. Army
Tilllerson as Secretary of State
Frozen sea on Mars
Trump&Romney
General Flynn
Trump & Mexico
Trump&Prejudice
Trump Elected?
TRUMP PICKS PENCE
Steve Bannon
Trump & Kelly Bimbo
Obama, Clinton, Trump & Mental Illness
Donald Trump in 2016?
Trump&Obama
Blumenthal & Birthers
Oct 5 TV interview
SpaceX Failure - Sabotage?
Clinton Stroke?
Kaepernick Treason
ZIKA
Weiner Saga
Obama kills flag pledge?
N.Y. Iman Murdered
Debbie Shultz fired as predicted
Ali Sonboli - Munich killer
Clinton EMail & FBI Comey
Micah Johnson: Cop Killer
Senator Perdue Obama prayer
HAIL BRITANNIA!
Omar Mateen & Obama
Muhammad Ali
RADIO INTERVIEW 5/8/2016
Mars Powerpoint
Katie Couric Lies
2016 Election
Romney tries convention theft
PRINCE DEATH
Hot Mars Info
UFO Hypnosis
Alien President
Obama - Reptilian Alien?
Obama in Cuba
Time Experiment
Garland&Obama
Targeting Iran
Scalia Murder?
Bloomberg in 2016
Martian Life seen by MSL?
Christian Values & Election
Oldest Person
Running water on Mars
Mars Weather on 682 days
Contents: People
Nimr A-Nimr Beheaded
Space X Lands
Podkletnov update
Netanyahu Kills Samir Kuntar
Pope: No Jewish Conversion
Russian Beheaded
Turkey downs Russian Jet
Pollard Matrices
Jihadi John & Paris
Metrojet Crash
James Webb in 2016: Surprise?
Boehner Out, Ryan In
Destruction of Rome
Nuke War Date?
Bin Laden&O'Neill
TIANJIN EXPLOSION
Huckabee & Kim Davis
NASA Achilles Heel
World War 3 Date
Gays & World War
Excommunicate 3 Justices
No Strategy Obama
Lincoln Chafee in 2016
Bob Jindal in 2016?
John Kasich in 2016?
Ben Carson 2016?
Lindsey Graham in 2016
George Pataki in 2016?
Bernie Sanders in 2016?
Martin O'Malley in 2016?
Vatican recognizes Palestine
Carly Fiorina in 2016?
Clinton Foundation
Korean Defense Minister Shot
Freddie Gray Riot
USS Roosevelt to Yemen
Obama Surrender
Gilbert Levin found Mars Life
Valerie Jarrett
Bergdahl &Obama Impeachment?
Palestinian State?
Obama Traitor & Iran
Boehner invites Netanyahu
Netanyahu Says NO to Obama
Netanyahu&UN
NETANYAHU
Satanic Obama's enemies
Anti-Semite Obama
Podesta UFO Disclosure
UFO Disclosure
Pelosi and Netanyahu
Pharaoh Obama
Jordanian Pilot
LT Kateasbeh
Japanese beheaded
Livni vs. Netanyahu
Air Asia Crash
2015 DATES
Jan. 1, 2015
Charlie Hebdo
Communist Obama & Cuba
Ferguson Verdict
1st Ferguson Riot
Eric Holder
Dr. Brandenburg: Nuke on Mars
Moshe Feiglin - future Prime Minister?
ISIS, Kassig, & Obama
Executive Action & Impeachment
O'NEILL SHOOTS BIN LADEN
Elon Musk & Sabotage
Gaza Buffer Zone
Islam attacks Ottawa
Kim Jong Un
Comet Siding-Spring
Tom Duncan Ebola to US
India & Mars
Ebola Obama
Khorasan in Syria
Alton Nolen Beheads
Scotland Votes
NY Nuke Nightmare
Pistorius Trial
Is Obama Our Enemy?
Is Obama Really Hamas?
Cameron vs. Obama
Israel&ISIS
Sotloff Beheaded
Foley Beheaded
Obama & Mind Reading Computer
Logistics & Gaza War
Joan Rivers
Robin Williams
Voices from the Cosmos
Birthday UFO
Gaza 2014 War
Gaza Children
Netanyahu launches Protective Edge at Gaza
Contents 7: Science &Tech
DEAD SEA SCROLL
CODES ON TV
Roffman Code Radio Show
Talmud&Names
Malaysia Flight 17
Al- Maliki & Defeat in Iraq
Why Cantor Lost
Jay Carney
Repulsine Drive
Potter UFO 1
Michael Sam
Boko Haram
Donald Sterling
Ranch War?
Malaysia Airlines
Air France
Malaysia Pilot Zaharie Shaw
Ukraine, Russia & War
President Snowden?
Kerry Messianic
Snake Salvation Death
Belarus & ObamaCare
Mars Rock Mystery
Pot President
Roffman Mars Radio Show
Justin Bieber
Minimum Wage
Duck Dynasty
Bush in 2016
Clinton 2016
Biden in 2016
Cruz in 2016
Christie in 2016?
Ryan in 2016
Rand Paul 2016
Romney 2016
Rubio 2016
Walker in 2016
Santorum 2016
Perry in 2016
Cuomo in 2016
Warren 2016
Satanic Obama
Cure to Aging?
Polygamy
China Crisis
Iran-Nuke-Deal
2014 Dates Encoded
911:Atomic-Iran
Keep-your-plan?
Sebelius&Obama
Nelson Mandela
Comet-Ison-Fear
End of America
Janet Yellen
Kenya-Mall-Terror
PUTIN OP-ED
Putin, Obama, Assad & Enemies
Israeli Intel vs. Assad
Mubarak Freed?
Mubarak Death?
McCain & Morsi
MAJOR HASAN
Bill O'Reilly
Fear of Obama
Zimmerman Free
Flood on Mars
Politics alters Mars weather
Egypt's ElBaradei
Army Suicide
Mullah Omar
TWA FLIGHT 800
Gay Scouting?
Tornado Chasers
Swiss against Kosher food
ALLAH AKBAR & Mickey Mouse
Jodo Arias
Mars Cover-up & Obama
N. Korea & Boston
Where is God?
Obama-Assad
Bombers Found
GUANTANAMO
Nuke Korea
Hagel&Korea
Kim Jong Un
Warship Sunk
Korea Attack
Erich VonDaniken
Brain Mapping
JC Stomp
Mars Hoax
Knives on Jets
Obama&Israel
New Pope
Cardinal Mahoney
Chavez&Obama
Pope Resigns
Rick Perry
2018 Mars mission crew
Slideshows for Codes & Mars
Asteroid 2012da14
School Shooting
Fordo Iran Nuke Hit?
Dr. Afrida
2013 Dates Encoded
Lance Armstrong
Hitler Escaped?
Mars Coverup
Doomsday
Benghazi&Rice
Arafat Polonium
Election&Code Lessons
Biased News
Babylon, America &Obama
2012 Election
Stevens Murder
Rubio, Gays & Catchism
World War 3
Identity Chips
Obama=Nuke War
Arab Riots
Mars One Way
Batman Shooter
Assad Update
Iran Overdue
Fast&Furious
Time & Boson
Prometheus
Zionist Threat?
Breitbart Death
New Party
Nuclear Talks
Flame Virus
Stuxnet Virus
Obama&Gays
Chaplain Woes
Attack Iran?
Ending Muslim Terror
USS Cole
Reagan&UFOs
2012 & The End of Days
End of Days
Romney vs. Obama
Obama vs. Court
Hunger Games
Obama Open Mic
Threat Analysis
Master of Fate
Nuke Iran
Foreign Aid
Russian Veto
Panetta&War
Iranian Threat
Atomic Threat
Brewer's Finger
Mitt Romney
War in Hormuz
WAR in 2012
EMP Attack
Malcolm X & Obama
Nuke Murder
Concordia Sinks
Israel to Moon
Rocket Sabotage
2012 Republicans
Atom. Holocaust
Missile Base Attack
Isfahan Attack
Iran is Gog
Rabbi Levin
Altering Time
Iran War Plan
Qaddafi Death
Kaddafi Execution
Solyndra Loan
DEFINE ELS
Aldrin&Obama
Obama Alias
EXODUS ROUTE
Pakistan&Osama
Scott Jones&ET
BinLaden Dead
2012 ELECTION
Obama's Failure
UFO Teleportation
Gravitics&Time
Baptism Annulled (Spiritual Custody)
Define ELS-Map
Alien DNA
No Alien gods!
Winds of Mars
2012 Supernova?
Obama History
Dual Citizen
Obama's School
Barry Soetoro
251.565 MAPS
ARK HISTORY
Expedition Pics
ELS MAP 1
ELS Map 2
ELS MAP 3
ELS MAP 4
ELS MAP 5
ELS MAP 11
ELS MAP 12
ELS MAP 13
ELS MAP 14
ELS MAP 15
ELS MAP 16
EXPEDITIONS
ETHIOPIA&ARK
Tanis&the Ark
Who's a Jew?
Tree of Life
2012 Dates Encoded
Ron Wyatt & Saudi Sinai
Vatican&Hitler
Vatican Rule
Jack Lu: The Finance Jew
Act of God & Election
Ukraine Riots
Rosetta Comet Landing
Boston Marathon
Sue Bradley
OBAMACARE
Shutdown
Secession Vote?
Obama hoax?
NewYork Curse
Major Hassan
Hitler Youth
Code Hypothesis
United States
Ariel Sharon
Netanyahu Wins, Yair Lapid 2nd
McChrystal Fired
Obama Security
Apartheid Israel?
Obama, Muslim King of Sodom
Obama Brother
Sgt Bob Bales
Korean Execution
Mars Lies
Ishmael's Birth
Sochi Terror
Gas Masks in Israel
Korans Burned
New Gaza War
Gaza Jabari Hit
Assad's Missiles
Chris Dorner
Piers Morgan: Amend Bible?
Khalid Mansour
8-27-2012 GOP Convention
Egypt's Election
Attack via Azerbaijan
Philadelphi Rt.
Paul Ryan
Whitney Houston
Nazarene-wife
Asteroid Toutatis
Mayan Doomsday
Holdings Book
Ahmadinejad in Space
Korean Rocket
Coach Sandusky
Armstrong&Moon
Armada vs. Iran
Qaddaffi son killed
Romney&Bain
Trump's wife abd election problems
Mormon Concerns
London Olympics
Photos&Maps 2
Zubrin & Mars
7/28/12 Threats?
Mars Stonewall
Weather Goof by Mars Rover
Remote Viewing
Comet Lovejoy
Space Shuttle
Odd Shortsale
Japan Tsunami
Fukushima&End
Meltdown
Plutonium&H2O
UFO Abduction
Shutdown Deal
WikiLeaks
1st Debate No Teleprompter
Rodney King
China in Space?
Alien Hybrids?
Bob Salas UFO
MSL Sky Color
Mars Sky Color
Ashima/MIT&Mars
End of NASA
Brain-Reading
Brokow vs. Gingrich
Newt Gingrich
Santorum&Gays
Roberts Vote
Ron Paul
Cain Withdraws
Jeb Bush 2012
Assad's Wife
French Election
Basketball Court
Hamid Karzai
Terror in France
Mofaz&Netanyahu
BeerSheba Attack
George Soros
Shalit Release
Steve Jobs
Social Security
Barney Frank
Michele Bachman
Mineral Quake
9-11-2011
Lennon&Imagine
Irene Flood
Joplin Tornado
Casey Anthony
Jeff Savage
Eilat Attack
Renfroe UFO
Mt. Sinai Pics
Rocket Defense
Haiti Earthquake
Giffords shot
Impeach Obama?
Obama Loss
Qaddaffi&Obama
Don't ask/tell?
Internet Dangers
Past Presidents
Jon Huntsman
Bush Memoirs
Bin Laden
New Civil War?
Rahm Emanuel
Roman Rahm
Mayor Rahm
Antimatter
Planet Kepler22b
Atomic Iran
Peace Talks
Abu Mazen
U.S. Israel Rift
Israeli ship-raid
Iran Chicken
Iran&Suez Canal
Mousavvi
Top Kill Fails
Pakistan Flood
Halliburton&Oil
Mars Monolith
Potter UFO 2
End of All Life
IRS Attack
Chemical Ali
Oil Spill
Oil and Life
Airline Miracle
Christmas
Polish President
Gaza Iron Wall
Life on Mars
Ark to Mars
UFO Onion-Drive
Wormholes
Martian Life
Olympus Mons
MSL Mars Launch
H Bomb Test
Supercollider
ANTIGRAVITY
Robson&Jupiter
Onion Drive Update
NIKOLA TESLA
Armageddon Assad Holocaust
PALIN RESIGNS
613
IRAN WAR
Gaza Invasion
ZECHARIAH
Statistics
Permutation
Control Text
Obama&Islam
NASA Director
Michael Jackson
To Muslims
2008 Election
Clintons
Clinton Weds
Nuclear War?
Baal Zephon
B. Zephon&Ark
Implications
Jeremiah&Ark
Vendyl Jones
In Jerusalem?
Al-Awlaki Death
Ark Destroyed?
Titus/Rome
Knights Templar
Mt. Nebo/Ireland?
ELIYAHU RIPS
Rabbi Glazerson
Hawass&Permits
Religious Tests
Other Texts?
Mayan Calendar
Google&Privacy
Nasrallah
Judge Elena Kagan
Obama&McCain
Snooping
Skip Tables
Term Positions
RABIN MURDER
27-August-2012
Judge More (sp.)
YASIR ARAFAT
Hurricanes
Walter K. York
Romney&Netanyahu
LINKS
Roswell
Angelic Doctor
Joseph Smith
Rod Rosenstein
Transgender Michelle?
Mars SAM
Buy ARK CODE
ROFFMAN BIO
Weiner Scandal
Spiritual Custody Contents
Annulled Ch. 1
Annulled Ch. 2
Annulled Ch. 3
Annulled Ch. 4
Annulled Ch. 5
Annulled Ch. 6
Annulled Ch. 7
Annulled Ch. 8
Annulled Ch. 9
Annulled Ch10
Annulled Ch11
Annulled Ch12
Annulled Ch13
Annulled Ch14
Annulled Ch15
Annulled Ch16
Annulled Ch17
Annulled Ch18
Annulled Ch19
Annulled Ch20
Annulled Ch21
Annulled Ch22
Annulled Ch23
Epilogue
Custody press coverage
MSL Yr 5 Fall
MSL Yr 5 Summer
MSL Yr 5 SPRING
MSL Yr 4-5 Winter
MSL Yr 4 Fall
MSL Yr 4 Summer
MSL Yr 4 Spring
MSL Yr 3 Winter
MSL Yr 3 Fall
Twenty and back
MSL Yr 3 Summer
MSL Yr 3 Spring
MSL Yr 2-3 Winter
Kerry Obama Iran Hoax
Sept 4 2019 Radio Show
Ebrahimi Update
DOD-UKMOD SITREP 3 JULY 2020
R VALUES
Enemy John Kerry
DarkSide Ramsomware
BIDEN FOR HAMAS
Malaysia shoot down
Custom 3
Pelosi & Milley vs. Trump
Israel blows up Iranian missile base
Saule Omarova & Our Money
Shi Zhengli Covid Bat Woman
Steven Weil and Ethiopian Jewry
Custom 3
OCT 20 2021 RADIO INTERVIEW
Custom 3
H.W. Bush, a former CIA boss, when asked about UFOs is reported to have said, 'You donít know the half of it." If UFO's were discussed in the Trump-Putin Summit, the same is likely true. Some of the possibilities are discussed below. Published on 7/25/2018.
After the disastrous summit between President Trump and Vladimir Putin in Helsinki everyone wanted to know what the two spoke about for two hours with only translators present. In an effort to see if the Torah Code had any suggestions I looked for the best spelling of TRUMP, the one used in Hebrew newspapers - tet resh alef mem peh, plus the best spelling of PUTIN - peh vav tet yud nun. I wanted to see them either cross or appear at the same skip. Neither of them appear in Torah at skips +/- 1, so crossing was not possible, but they both appear close to each and at the same skip (+77,392). I then looked for terms related to war, Korea, and Iran. They weren't there. I know too much about UFOs, so I decided to see if there was a significant match with UFO or aliens. What I found did not statistically improve on what I show on Figure 1, so l left it off the matrix. What impressed me however is the same phrase from Genesis 6:2 that is shown in Figure 2 - the one that is so controversial. At this early point in our Bible we find the following interaction described: THE SONS OF GOD SAW THAT THE DAUGHTERS OF MEN were beautiful, and they took as wives whomever they chose. Who were these sons of God? One possibility is aliens. If they are here and President Trump wanted to discuss alien issues with Putin, sadly his staff has long had too many leaks. I don't know if this topic was brought up, but Figure 1 suggests that it's possible because TRUMP shares a letter resh with THE SONS OF GOD SAW THAT THE DAUGHTERS OF MEN.

Figure 1 above shows the relationship between TRUMP, PUTIN, and what sounds like people who were not human that were interbreeding with the DAUGHTERS OF MAN (Genesis 6:2). A probability calculation for Figure 1 is shown below.
STATISTICAL SIGNIFICANCE OF FIGURE 1. The ELS rank of TRUMP is (1,963) is too high to use my normal method of calculation. So instead of just requiring it, I require it plus the Genesis 6:2 phrase THE SONS OF GOD SAW THAT THE DAUGHTERS OF MEN and I assign no significance to either term. I only calculate the significance of having the best spelling of PUTIN in 264 letters with both phrases. Likewise for ISRAEL. PUTIN at the best spelling appeared at a special case skip against odds of about 1,155 to 1. So this is a significant matrix. Israel, which appears 591 times in Torah, had about 1 chance in 2.5 to be on the matrix. The combined odds against both are about 2,883 to 1, but the Putin odds alone are more important. However the topic of Israel was discussed at the summit. Since then Israel has fired 3 missiles at Syrian missiles or aircraft and shot down one Syrian fighter jet. There is also talk about the Russians forcing the Iranians to pull back 100 kilometers from the Israeli Golan Heights.
FIGURES 2 AND 3. On Figure 2 at the 3rd lowest ELS of MAN FROM MARS, we find that the axis term is also centered on AND THE SONS OF GOD SAW THE DAUGHTERS OF MAN THAT THEY WERE FAIR AND THEY TOOK THEM FOR WIVES (Genesis 6:2). I wrote about that match in my 2014 article about Alien Hybrids.
Religious people have long wondered about who did the children of Adam and Eve marry? The Bible makes no reference to any daughters then, and when it does refer to the daughters of man in Genesis 6:2, we read about the sons of God seeing the beautiful daughters of man, and then marrying them. The sons of God are identified as Nephilim (נְפִילִים‬ - giants) in Genesis 6:4. The word also means fallen which leads to a question of whether people thought they were fallen from heaven or descended from heaven. In Hebrew the word for heaven is the same as sky (שָׁמַיִם).

There are a huge number of books and articles that try to identify the sons of God. One (Nephilim: The Fallen Ones published in 2003) merged the topic of Torah Codes with aliens. It was written by a deceased good friend of mine - Walter Keith York. Walt was a Christian, and although he brought his Christian beliefs into the book, I helped him understand the Codes. He cited me in his work. As I describe elsewhere in my site, Walt had more than one possible close encounter, and he might have been abducted before he committed suicide. He was, before that, the funniest guy that I ever met. But I digress. My friends in intelligence are not here for humor. They want to know what I know about the summit, and there is nothing humorous about that.

KEY ISSUES. Let me be clear. I have no inside information on the summit. Figure 1 tends to support my suspicion that the topic of aliens arose, and it may arise again if Putin comes to the White House before or after the election in 2018. I suspect that if anyone outside of Trump, Putin, and the two translators with them at Helsinki knows what happened there it would be Israel who would have found a way to bug the meeting. On Figure 1 on the line under THE SONS OF GOD SAW THAT THE DAUGHTERS OF MEN we find that ISRAEL touches the phrase and the letter alef in TRUMP. However, Israel is a high frequency term. It occurs 591 time in Torah, and it had a 40% chance to be on Figure 1.

There are three questions that I'm dealing with in this article. They are
(1) Did the topic of aliens arise? For this question I can only offer Torah Code matrices.
(2) If aliens were discussed, why were they discussed? Figure 3 below shows that HELSINKI, the site of the summit, is also encoded with THE SONS OF GOD SAW THAT THE DAUGHTERS OF MEN (were fair and took wives from them) and TRUMP.

(3) Why did President Trump fail to endorse U.S. Intelligence over Putin's words? Did he misspeak, or was he in a sense crying to the world for help over the fact that the leadership of the FBI and CIA have been corrupted and is determined he bring him down? His wrath over this was partially expressed when Sarah Sanders Huckabee announced that the President was thinking about pulling the security clearances of former Central Intelligence Agency Director John Brennan, former Federal Bureau of Investigation Director James Comey, former Director of National Intelligence James Clapper, former director of the National Security Agency and the CIA Michael Hayden, former national security adviser and U.N. Ambassador Susan Rice and former FBI Deputy Director Andrew McCabe. All of these people are Obama appointees, the cream of the crud that is the Deep State amd mortal enemies of President Trump. (McCabe, who was fired from the FBI two days shy of his retirement in connection with information he provided to a Wall Street Journal reporter ahead of the 2016 election, said his "security clearance was deactivated when he was terminated, according to what we were told was FBI policy.")
Figure 2: The same Genesis 6:2 description of interbreeding that was shown on Figiure 1 is crossed by MAN FROM MARS here.
DONALD TRUMP AND UFOs.
We don't yet have an official answer to the question of whether the President believes in UFOs, but before examining the subject in detail, let's see how Sarah Sanders Huckabee fielded the issue.

ABC writes. "Though the story was easy to miss in the usual tidal wave, by Monday morning it was all anyone wanted to talk about. Fortunately, one member of the White House press corps, keeping the public interest in mind, took it upon himself to ask about the president's stance on aliens."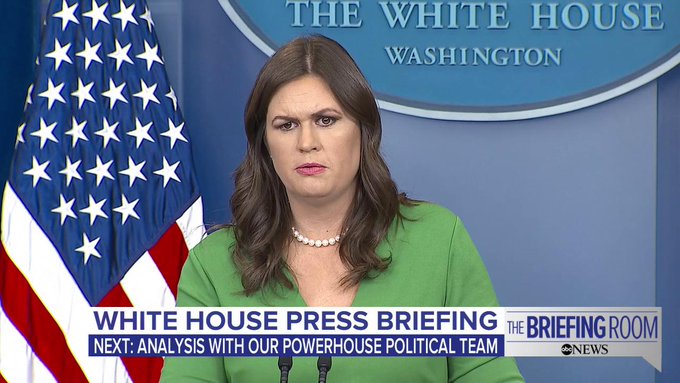 During Tuesday's press briefing, The Hill's Jordan Fabian asked Sarah Huckabee Sanders about the Times's U.F.O. report, including whether Trump believes in their existence and whether he plans to restore funding to the Pentagon program. As he finished his question, what appeared to be a recording on his phone began to play. "I don't know if that's a coincidence or not," Sanders joked. "I feel like I already want to pass on this question given that you have aliens sitting among you." She ultimately demurred, telling reporters that she hadn't discussed the question with Trump. "Somehow that . . . hasn't come up in our back-and-forth over the last couple days," she said. "But I will check into that and be happy to circle back."
NOT ALL PRESIDENTS ARE EQUAL WHEN IT COMES TO UFO KNOWLEDGE. Obviously President Truman was likely to know exactly what was found at Roswell in 1947 because he was President when the incident occurred. He founded the National Security Agency on November 4, 1952. That date in 1952 was also the date for the Presidential Election, which was won by General Dwight D. Eisenhower, who likely also knew quite a bit about the UFO issues. Curiously, his great grand daughter, Laura Eisenhower, claimed that Ike was aware of an extraterrestrial presence on Earth that had existed since his days as a General during WWII. Ike was supposedly the last president to maintain complete control over the U.S. relationship with an extraterrestrial race, whom he allegedly met to form a treaty in 1954. She says the U.S. government established a colony on Mars through black budget programs, as a survival mechanism in the case of a catastrophic event on Earth.

President Eisenhower used the term Military–Industrial Complex (MIC) in his Farewell Address to the Nation on January 17, 1961. Part of his warning was as follows:
This conjunction of an immense military establishment and a large arms industry is new in the American experience. The total influence—economic, political, even spiritual—is felt in every city, every statehouse, every office of the federal government. We recognize the imperative need for this development. Yet we must not fail to comprehend its grave implications. Our toil, resources and livelihood are all involved; so is the very structure of our society. In the councils of government, we must guard against the acquisition of unwarranted influence, whether sought or unsought, by the military–industrial complex. The potential for the disastrous rise of misplaced power exists, and will persist. We must never let the weight of this combination endanger our liberties or democratic processes. We should take nothing for granted. Only an alert and knowledgeable citizenry can compel the proper meshing of the huge industrial and military machinery of defense with our peaceful methods and goals so that security and liberty may prosper together.

The current Russia collusion probe is an example of what President Eisenhower was worried about with respect to dangers to our democratic processes. As for liberties I am closely watching the actions of one military organization that has been tracking everything I write for at least 4 years. At times it looks like they just want to learn about the Torah Code. At other times they have treated me like a threat (likely because of what I have revealed about UFOs) and still on other occasions they have seemed to stimulate some of the sensitive research that I do, even pointing to areas that I should focus on. The latter is true with this article as I put it together. Whatever their ultimate purpose, there is an implied challenge to my liberty. I'm writing this with the Hannity show on in the background. They just indicated that they are afraid of the monitoring that they are experiencing and indicated that they were afraid of our Government. They are Trump fans, so they are not referring to him. Rather they point to what is increasingly known as the Deep State which at least in some areas is likely to be intertwined with the MIC. They and I both believe in what Ike said, "Only an alert and knowledgeable citizenry can compel the proper meshing of the huge industrial and military machinery of defense with our peaceful methods and goals so that security and liberty may prosper together."

A really outstanding article about whether all presidents are given the truth about UFOs was written by Britt Nelson and published in the Costa Rica Star:
Is there a level of ultra 'top secret' security above the President of the United States when it comes to UFOs? Certainly President Donald Trump, after 500 days in office, has been briefed about UFOs from NASA, the CIA and perhaps others, but then again maybe not. This question is intriguing and not stretching reality. Are there secrets 'from out there' that demand such secrecy? Maybe so! But why?
With all the Star Wars movies going back decades and dozens of science fiction films featuring extraterrestrial visitors from 'outer space' within or beyond our on Milky Way galaxy –what is there now to hide from the public? If the government did reveal that UFOs were real … so what? Regardless if we know they are here there are no answers as why UFOs are here, but they are here. For believers and seers of UFOs there is no doubt of their existence. Other countries such as Great Britain and Russia have released their once 'top secret' UFO files for public consumption that leave no doubt about the true existence of UFOs.
What will it take for President Trump to unexpectedly land Air Force One at the infamous and secretive 'Area 51' in the Nevada desert and demand a full-facility inspection from top-to-bottom and wall-to-wall? There are those that believe 'Area 51' contains actual captured or crashed UFOs.
One revealing statement from the lips of former President George H.W. Bush, a former CIA director, when asked about the existence of UFOs he said, "You don't know the half of it."
In 2016, a tourist in Costa Rica captured amazingly clear photos of a UFO hovering above Irazu Volcano National Park in Cartago. The pictures were sent to the Mutual UFO Network for analysis, as reported in the Costa Rica Star News.
Maybe the most famous UFO sighting in Costa Rica took place on September 4, 1971, the Costa Rican National Geographic Institute was taking aerial photos from 10,000 feet of Lake Cote, the small body of water that would later become the larger Lake Arenal, as part of preliminary studies for the future hydroelectric project. Some experts say that this is the best UFO Photograph in the world.
It's well known that former President Jimmy Carter (1977-81) witnessed unexplained aerial phenomena in Leary, Ga., in 1969 two years before becoming governor of Georgia. He was speaking to a Lions Club group at about 7:15 pm when someone — that noticed the strange light in the sky about 30-degrees above the horizon — spoke up and pointed it out to the 20 or so people that saw the UFO.
"All of a sudden, one of the men looked up and said, 'Look, over in the west!' And there was a bright light in the sky. We all saw it. And then the light, it got closer and closer to us. And then it stopped, I don't know how far away, but it stopped beyond the pine trees. And all of a sudden it changed color to blue, and then it changed to red, then back to white. And we were trying to figure out what in the world it could be, and then it receded into the distance," Carter said in an interview about the sighting. "One thing's for sure, I'll never make fun of people who say they've seen unidentified objects in the sky. If I become President, I'll make every piece of information this country has about UFO sightings available to the public and the scientists."
According to an account published in Wikipedia, despite his earlier pledge, once elected, Carter distanced himself from disclosure, citing "defense implications" as being behind his decision.
Defense implications? Defense from what and why? That is the great unknown and the public should be briefed about what is known about UFOs. Total discloser by the National Aeronautical and Space Administration (NASA) and the U.S. Central Intelligence Agency should be required. They should all come clean and stop telling lies about the existence of UFOs.
The late Astronaut Gordon Cooper, one of the original Mercury Seven astronauts gave an interview before he died in which he described witnessing and filming a UFO landing in Germany and taking off. Cooper said he had the film developed, but before he could view the film it was seized by government officials and sent to Washington. He said he did hold the film up and it contained close up images of the UFO. Cooper never again heard anything about the film footage he captured. In his interview, this man was honest, beyond reproach and extremely brave for coming forward.
Commercial airline and military pilots from around the world have described seeing UFOs and photographing them, but many keep their sightings secret fearing ridicule.
So what's the big deal with all this secrecy and continual lies and deceptions from the U.S. government involving what they know about the existence of UFOs? What's scary is the level of 'top secret' that goes higher than the President of the United States.
Back in 1977 President Carter asked then CIA Director George H.W. Bush to disclose CIA information on UFOs and was told directly by Bush, "You have no need to know" and that (w)as the end of it. That's the frightening part.
President Trump should demand public disclosure of everything the government knows about UFOs. They do know what's out there but the public does not. We are not alone in the infinite universe.
Figure 3 - HELSINKI is encoded with the mysterious Genesis 6:2 and TRUMP.
Why did President Trump fail to endorse U.S. Intelligence over Putin's words? Did he misspeak, or was he in a sense crying to the world for help over the fact that the leadership of the FBI and CIA have been corrupted and is determined he bring him down?
Let's start with the simple stuff. The primary author of what is normally fake news, CNN, reported on July 16, 2018 as follows:
Helsinki, Finland (CNN) US President Donald Trump, in a stunning rebuke of the US intelligence community, declined on Monday to endorse the US government's assessment that Russia interfered in the 2016 presidential election, saying he doesn't "see any reason why" Russia would be responsible.
Instead, Trump -- standing alongside Russian President Vladimir Putin -- touted Putin's vigorous denial and pivoted to complaining about the Democratic National Committee's server and missing emails from Hillary Clinton's personal account.

"I have great confidence in my intelligence people, but I will tell you that President Putin was extremely strong and powerful in his denial today," Trump said during a joint news conference after he spent about two hours in a room alone with Putin, save for a pair of interpreters.

Trump's statements amounted to an unprecedented refusal by a US president to believe his own intelligence agencies over the word of a foreign adversary and drew swift condemnation from across the partisan divide.
The President later said that he misspoke. claiming he meant to say he doesn't "see any reason why" Russia would NOT be responsible.
The most important thing to understand about one of Trump's greatest critics, former (Obama-appointed) CIA Director John Brennan, is that he was a Communist. He admitted to voting for the Communist Party's candidate for President, Gus Hall, in 1976. Further, he only made this admission when he had to take a polygraph test.
In Modern Diplomacy we read:
Barack Obama's CIA chief, John Brennan, told the Annual Legislative Conference of the Congressional Black Caucus, on 15 September 2016, in Washington DC, that when he had applied in 1980 to join the CIA, he admitted to them that in the 1976 Presidential election, when Jimmy Carter was running against Gerald Ford, Brennan had voted instead for the candidate of the U.S. Communist Party, Gus Hall, and that he was then greatly relieved to find that this information didn't cause rejection of his CIA-application. This had happened 11 years before the 1991 end of the Cold War (which ended actually only on the Russian side, but not also on the U.S.-NATO side, where it continues without stop, and has accelerated since 2014, now finally being joined by both sides).
Brennan's Communist vote is also mentioned by CNN, and it's found in Wikipedia. The fact that at the height of the Cold War the CIA could hire a man who admitted to voting Communist only four years earlier is evidence that at times the organization serves Deep State purposes rather than American purposes. Brennan did not come to serve a right wing President. Instead he has chosen by the most left wing President that the U.S. ever had. Brennan spoke fluent Arabic. He was CIA Director when Obama gave Iran $151.7 billion to finish Iran's on-going nuclear and terrorist support programs. He was an enemy of the U.S. when he first voted Communist. Although for some bizarre reason he still maintains a top secret clearance, he is an enemy of the United States and in particular a deadly enemy of President Trump now.

I will continue to document Trump's Deep State enemies in the Intelligence Community as I work to complete this article, but with respect to Putin, he would be a man who certainly knows the truth about UFOs. If Trump wants to talk about the issue with people in our Government he's likely to encounter leaks or obstruction. As such, he may feel safer learning about the issue from the Russian. Again, supposedly in 1977 President Carter asked then CIA Director George H.W. Bush to disclose CIA information on UFOs and was told directly by Bush, "You have no need to know." It's obvious that Trump and the Bushes maintain hostile relations. The Bushes are almost certainly at the heart of the Deep State. I can match DEEP STATE at skip +24,753 (ELS rank 3) with G. BUSH at skip -1 in 90 letters. The Bushes aren't going to tell him anything about the matter. But if Putin did tell Trump the truth, it might have been so shocking that when our President left the meeting the emotional impact kept him from choosing his words wisely. As for who is involved with the Deep State, I can also place DEEP STATE at skip +24,753 (ELS rank 3) with PUTIN (spelled peh vav tav yud nun) in 75 letters.

Other combinations of DEEP STATE with Vatican, Kerry, Strzok, Comey, Obama, Clinton and Schumer are shown in my Deep State article. Since that article was wriiten I also found DEEP STATE at skip +45,550 (ELS rank 8) with BRENNAN at skip -45,550. Brennan was raised as an Irish Catholic but he might have converted to Islam while he was stationed in Saudi Arabia for 5 year (or, at least, so says Glenn Beck). It is important to understand the Vatican's role in the Deep State and in particular the Deep State's relationship with John Brennan. In my article about the Deep State I wrote the following:

WHY WOULD THE VATICAN TRY TO DEPOSE TRUMP? The Vatican has always been the enemy of Israel. It recognized Palestine and condemned Trump for recognizing Jerusalem as the capital of Israel. Trump also has an Orthodox Jewish daughter (Ivanka), son-in-law (Jared) and 3 grandchildren. The full history of Rome's hatred for Israel is discussed in my article about them recognizing Palestine. In it you will see that I have battled the Vatican in court over the custody of my older son, and won, forcing the Church do so something that they had never done before. They annulled the baptism of my older son, Robert Altair Roffman. He is now a rabbi in the United States Air Force Reserve.
Figure 4: The former Communist Director of Obama's CIA is shown with other traitors trying to overthrow the lawfully elected President of the United States.
GENESIS 6:1 TO 6:4 HAS OFTEN CAUSED PEOPLE TO LOOK FOR EXTRA-TERRESTRIAL ORIGINS. At one extreme this is true for Nazis, and at the other extreme are black Muslims who are discsussed later in cunjunction with Malcolm X and Elijah Muhammad. While Jews make no sense claims, the birth of Isaac to Sarah when she was 90 and Abraham was 100 might also give us cause to wonder about what was going because the birth was predicated by an angel a year before it occurred, causing Sarah to laugh because she had long ago entered menapause.

NAZI EXTRA-TERRESTRIAL IDEALOGY. I have met several far right folks who have mixed beliefs that include beliefs that that they themselves are descended from aliens. One that I have written a lot about and met several times is Clark McClelland. Clark McClelland was assigned to the cockpit of the Space Shuttle missions as a Spacecraft Operator (ScO - Ground Test Astronaut). He had a top secret clearance at the Kennedy Space Center, and allegedly witnessed several UFO-related events. His position has been confirmed by astronaut Edgar Mitchell, the 6th man to walk on the moon. In 1992 Clark lost his job (and retirement) after 34 years of service there some three months after claiming to see (on a 27-inch TV monitor) an 8 to 9-foot tall alien in the cargo bay one of our space shuttles. He also claimed to see an alien craft behind the shuttle. While Clark and I initially developed a friendship, we largely parted ways over his extreme oppostion to Zionism and Israel.
To the right of Clark are neo-Nazis. Here I will quote Wikipedia which also refers to Chapter 6 of Genesis on the subject of Esoteric Nazism:
The next major figure in Esoteric Hitlerism is Miguel Serrano, a former Chilean diplomat. Author of numerous books including The Golden Ribbon: Esoteric Hitlerism (1978) and Adolf Hitler, the Last Avatar (1984), Serrano is one of a number of Nazi esotericists who regard the "Aryan blood" as originally extraterrestrial:
Serrano finds mythological evidence for the extraterrestrial origins of man in the Nephilim [fallen angels] of the Book of Genesis... Serrano suggests that the sudden appearance of Cro-Magnon Man with his high artistic and cultural achievements in prehistoric Europe records the passage of one such divya-descended race alongside the abysmal inferiority of Neanderthal Man, an abomination and manifest creation of the demiurge... Of all the races on earth, the Aryans alone preserve the memory of their divine ancestors in their noble blood, which is still mingled with the light of the Black Sun. All other races are the progeny of the demiurge's beast-men, native to the planet.[9]
ELIJAH MUHAMMAD, THE NATION OF ISLAM, MALCOLM X, OBAMA AND MARS.
When I first read the claims at http://israelinsider.net/profiles/blogs/is-obama-the-secret-son-of about Obama being the possible son of Malcolm X, I was amused. I am a "birther" who, like Donald Trump, believes that Obama was born in Mombasa, Kenya. But Malcolm X as his father? What would the Torah Code reveal about that? More than I imagined. On Figure 5 below it only takes 108 letters (the area with the white background) to show the only ELS of MALCOLM X with an ELS of B. OBAMA. At a skip of -1, BARACK intersects and shares a letter kuf with MALCOLM X. When the matrix is expanded to 144 letters by adding two columns (the area shown with the yellow background) the word PHARAOH appears in the open text, touching B. OBAMA.
Figure 5 below: The Torah Code shows the relationship between MALCOLM X, B. OBAMA, and MARS. There is some evidence that Malcolm X was Obama's real father. This is explained at the end of the article. Of note on the Mars issue is that Malcolm X originally was an avid fan of Elijah Muhammad who claims that blacks are descended from Martians who built the complex at Cydonia on Mars. Further, I did not think about using this (2012) matrix for this article until a member of our Government subtly pointed it out to me. That action could have been to help me, or to make the article sound crazy in an effort to discredit me.
BACK TO BUSH AND WHO WAS INTERBREEDING WITH THE DAUGHTERS OF MAN.
Earlier I quoted the article by Britt Nelson and published in the Costa Rica Star. In it, Nelson claimed that, "One revealing statement from the lips of former President George H.W. Bush, a former CIA director, when asked about the existence of UFOs he said, 'You don't know the half of it.'" However, on checking for a good second source to back up that claim I couldn't find one. Whether Bush said or did not, from what I seen with my own eyes, from what I have been given, from what I have found in the Code, and finally from threats that have been made against my reputation and even my life, I can personally say that, "Your really don't know the half of it." I am certain that not just our Government, but many other governments and the Vatican don't want most of us, and even some of our presidents to know the half of it. But I do think that Genesis 6:1-4 gives us a hint of what the full truth is. At least part of that truth is likely to be that aliens are not only visiting us now, but they have been for a very long time and they are interbreeding with us. I think that the Establishment have may built up its wealth based on benefiting from deals with these entities, but that President Trump is not at all part of that Establishment which is likely pretty much of the Swamp that he has promised to drain. His desire to set up a new branch of the military - the Space Force - may be with the aim of defending us from what might be an age old threat.

While we were supposed to take the words of Sarah Sanders Huckabee as humor on the film link above, it would not suprise me if she was serious when she said derscribed the Press Corps. "I actually want to ask about UFOs," The Hill's Jordan Fabian said before his phone went off.

"I don't know if that's a coincidence or not," Sanders joked.
"I feel like I already want to pass on this question given that you've aliens sitting among you."
HOW MANY OF US CAN OR TRY TO TRACE OUR ANCESTRY TO ANOTHER PLANET? O.K. - I'll admit that the question sounds nuts, and the answer is likely zero, but that doesn't mean that everyone thinks they are descended from pure Earthlings. I jgot a message from a friend at DoD about an unfinished article that I posted on January 26, 2012 about Malcolm X being the possible father of Barack Hussein Obama. See the Figure 4 above. Malcolm X saw Elijah Muhammad as his role model, though they eventually parted ways in a hostile fashion and it is possible that Muhammad played a role in the assassination of Malcolm X. A key point here is that the figure above indicates and as is indicated by a speech by Elijah Muhammad, the Nation of Islam believes that black people are descended from Martians who built the so-called face (sphinx) at Cydonia on Mars.

LESS BIZARRE THAN BLACKS FROM MARS: IS OBAMA THE SECRET SON OF MALCOLM X. The original source of the article below seems to have been pulled from the internet, but if you want details of the hypothesis that Malcolm X was Obama's real father, this is the best that I have seen.
Is Obama the secret son of Malcolm X?
Israel Insider 04 Novembre 2008
If Barack Hussein Obama II is Malcolm X's biological son, it would explain the mystery of why he was so generously helped by so many Arab and communist "friends in high places" long before he was a "somebody." Just as Malcolm X adopted Islam, his secret son would also need to learn its ways, and learn the ways of revolution, not just assume an Islamic name. He would need to be groomed and educated to organize the community called the United States of America.

by Reuven Koret, Israel Insider Publisher

In August I received a curious email. As a magazine that covers international politics, with a focus on Mideast affairs, Israel Insider gets more from its fair share of baseless tips and phony rumors. I ignore most and delete them unread. This one was a bit different. It came from a national security lawyer with extensive credentials and intelligence connections that checked out, and a phone number.

Israel Insider had been running a series of articles exploring the vagaries of Barack Obama's birth, and his concealed documentation, and this was the jumping off point of the email, which confirmed the claim that Obama was not born in Hawaii, that "Mossad are going with Mombasa" but "Proving Mombasa is not so easy, as NSIS in Nairobi are clamming up tight, as are MI6 in London, who have the original Mombasa file and full details of the birth."

He said that "Disproving Honolulu is child's play. You've already shown that the birth certificate put forward by Obama (whose people privately are not denying Mombasa, by the way) is a fake. Why fake it? If he was born in Honolulu he could obtain a genuine one. Hawaii Dept of Health would hardly denounce a potential presidential candidate's birth certificate as fraudulent without cross-checking birth records for August 1961. No birth was registered in the name of Obama in Honolulu in August 1961."

(This last detail may explain why Hawaiian officials last Friday confirmed that a birth certificate does indeed exist but conspicuously refused to release any details or even confirm that the details conform to those on the computer-generated Certification of Live Birth. The name on the "original" certificate may in fact not be Obama nor the birthplace Honolulu. But Obama's recent visit "to his grandmother" may well have had less to do with her health than eliciting this vague and inconclusive statement from the Hawaiian Health Department.)

The source continues: "There is no evidence Ann Dunham had even met Obama Senior in or around November 1960, the alleged time of conception, indeed it is not even clear Obama was in Honolulu at that time, although he may have been. Ann Dunham was only 17 and although she might have been in Honolulu the timing is tight." "More to the point, she was in neither of the medical centers put forward by the Obama campaign (question: why do they not know in which hospital he was born?) on August 4th, nor are there medical records to back up the claimed birth, nor has an attending physician been named. I've heard of births with the father absent, births with the mother absent a bit trickier."

"There are said to be photos of Ann Dunham on Waikiki Beach taken in or about July 1961, when she is supposed to have been in her third trimester, in a bikini, taken by a fellow female student. AD is clearly not pregnant. Media have not yet talked to fellow students, but it can't be long. There are bound to be other photos of AD in existence taken during the alleged 2nd and 3rd trimesters. Obama campaign are terrified some one will press for her medical records, which have been accessed by CIA."

"Moving to Indonesia the Obama campaign are also suppressing the Indonesian immigration and passport records, which I believe show him as a Kenyan citizen, and the naturalisation records. They have not denied Internet claims he was naturalised in Indonesia. If he was a US citizen there should be a visa record to back that up."

"Obama Senior was murdered in Kenya in 1982 to silence him. Interesting story re his sister Auma as well -- she appears to be a full sister, not a half-sister as he is claiming, i.e. they share the same mother. She was ordered back to Kenya in 2007 to prevent DNA testing .... CIA did a DNA test on the grandparents, using saliva from glasses, which conclusively rules out any relationship between Obama and the Dunhams."

"The source said that the Dunham family became involved because Stanley Dunham, Sr. was suspected of espionage. Boeing, he said, has "a 1944 security file on Stanley Dunham in connection with suspected sabotage of B-17G aircraft at their Wichita Kansas plant and the theft of B-29 blueprints, a full set of which were passed to the German Abwehr via Lisbon by June 1944. Ann Dunham appears to have been chosen as the surrogate mother in 1963 because of the family connection to German Intelligence. German assets in the US, including Rezko, who is connected to the Syrian Mukhabarat and the German DVD, sponsored his career.

"Effectively," the source concludes, "Obama is a German sleeper agent."

Well, this is a lot to take in, and on first reading it struck me that the source had been reading too many Le Carre novels or Bond movies. I mean, really: "The Manchurian Candidate" meets "The Boy from Mombassa"?

It seemed completely preposterous, and indeed I initially dismissed it as preposterous. Obama a "German sleeper agent"? Of course, in those days the East Germans were a Soviet satellite, and the DDR was perhaps the most feared and ideological of the communist states, with more than a sprinkling of rehabilitated Nazis uncured of their genetic fantasies and experiments. 1961-1963 were the peak years of the Cold War, with Berlin playing a central role in East-West hostilities.

But what made no sense to me was why anyone in the spy business, or anyone in East Germany for that matter, would give a damn to find a foster parent for a newborn illegitimate offspring of mixed black-white parentage. What made him so special that the Syrians and the German would go to all the trouble or see some potential in grooming him? What could possibly make intelligence agencies groom from infancy a sleeper agent.

The source didn't answer this, nor could I, over the succeeding months of the campaign. We exchanged a few more emails, but the nagging question of "why" anyone would bother with this baby would not leave me. What did come out in the ensuing weeks, however, was a litany of unexplained facts in Obama's youthful history, of help from strangers in high places all along the way, benefactors who had either Arab-Muslim or Communist-Social connections. There was his Islamic education in Indonesia. There was the fact that in Hawaii the boy was tutored in the ways of revolution by leading black activists, Muslim activists, and Communist activists. Influentia black nationalist and Communist Frank Marshall Davis would become a huge influence in the young Obama's life.

But things really got strange with the revelation that Khalid al-Mansour, close adviser to a Saudi billionaire and royal family helped Obama get into Harvard Law School (and reportedly Columbia before that) and financed his education and advancement.

It was al-Mansour who asked Percy Sutton, a high profile black lawyer active in the civil rights movement in the 1950s and 1960s, to help Obama get into Harvard. Sutton described Mansour as "the principal adviser to one of the world's richest men. He told me about Obama and asked him to "write a letter in support of Obama's application to Harvard Law School, Sutton recalled. ""And his introduction was there is a young man that has applied to Harvard. I know that you have a few friends up there because you used to go up there to speak. Would you please write a letter in support of him?" Sutton obliged: ""I wrote a letter of support of him to my friends at Harvard, saying to them I thought there was a genius that was going to be available and I certainly hoped they would treat him kindly."

How in the world would Percy Sutton know that Obama, a young man he had never met, was a "genius"? It turns out that Sutton was among the lawyers for Malcolm X.

And why would a big wheel like al-Mansour take such an interest in a drug-taking party boy from a second-rate college? While helping Obama get into Harvard, he was representing top members of the Saudi Royal family, Saudi billionaires Abdul Aziz and Khalid al-Ibrahim, and Prince Alwaleed bin Talal, nephew if King Abdallah of Saudi Arabia. So there was, early on, a direct connection between Obama and Saudi royalty and an aggressive effort by a Saudi agent to make Obama's way in the world.

It was this connection to Saudi wealth that has led to Obama being dubbed the "Manchurian candidate".

Then there were the revelations about Weather Underground co-founder Bill Ayers and his wife Bernadette Dohrn -- unrepentant terrorists and communists both -- who helped launch Obama's political career from their home. Ayers, indeed, may well have ghost-written Obama's memoir Dreams from my Father, creating the impression that Obama was also skilled in writing as well as "community organizing."

More substantially, there was Antoin "Tony" Rezko, the Syrian born real estate wheeler-dealer and convicted racketeer, who helped Obama raise his first campaign funds and assisted him financially.

There were influential Palestinian scholars and propagandists Rashid Khalidi and Edward Said, colleagues and personal friends of Obama, despite his unconvincing efforts to distance himself from them and squelch his praise for their anti-Israel ideologies.

There was Reverend Jeremiah Wright, Obama's spiritual mentor, who conducted his marriage, baptized their children, and gave Obama's campaign manifesto "Audacity of Hope" its title before being distanced (at least for the duration of the campaign) when their close twenty year relationship came to light.

And, of course, there is neighbor Louis Farrakhan, current leader of the Nation of Islam, who recently spoke of Obama as the "Messiah" and -- as a report from Ken Timmerman, citing an insider, today confirms -- enjoys an "open channel" of communication with him.

Why did all of these important scholars and ideologues, fundraiser and networkers, these millionaires and billionaires – especially from the Arab and Islamic world, and extreme socialist and communist party activists -- reach out to help this unknown, undereducated young man, many before Obama was anybody of known importance? Was it just that he was tall and handsome and bright, with a silver tongue?

Or was there some other factor – a genetic factor, a secret legacy of heredity -- that mysteriously opened the doors and wallets and elicited the kindness of strangers?

Last week, a long and rambling post attributed to one Rudy Schultz was made to the Atlas Shrugs blog of Pamela Geller. The starting point for the post was revelation of school records that show that the supposed mother of Barack Obama enrolled in the University of Washington just a few weeks after her son was purportedly born in Hawaii. But the intention of the poster was apparently to imply that Obama's father was unlikely to have been Barack Hussein Obama, Senior (photo at left).

The post provides photos and a video of Malcolm X, with a notation that he and Obama had the same height (6'2-6'-3") and striking physical resemblances: identical hairline, jawline, and other distinctive facial features, similarities not shared by Barack Hussein Obama, Sr. or other members of the Luo tribe bloodline.

The post noted striking similarities in speaking cadence and style, not to mention a bright flashing smile and a wry sense of humor. The man born in Nebraska as Malcolm Little also was a light shade of brown, the product of a mother from Grenada who, he said, "looked like a white woman" and a black father.

The post also traced the path of Malcolm X in the late 1950's and early 1960's, a journey that took him to Africa and the young leadership circle to which Barack Hussein Obama Sr. also belonged, including the activist Tom Mboya who was behind the program which airlifted, with US funding, young African leaders to Hawaii to study at the university, a cohort to which Obama senior belonged.

But Schultz concludes his post by pulling his punches a bit: "While Malcolm X may not be Obama's biological father, Malcolm X is demonstrably Barack Hussein Obama's philosophical father, and the lineage is undeniable! Obama Jr. was sired in the social soup stirred by Malcolm X."

While Schultz backed away from claiming that Obama's biological father may in fact be Malcolm X, the hereditary claim cannot be discounted. If he was indeed the illegitimate offspring of Malcolm – the closest that one can get to "royalty" in the messianic broth of black radical Islamic and Communistic politics – that would explain the otherwise inexplicable:

why this "illegitimate" baby, and later this young man – a druggie and underachiever -- would have had paved for him the royal road to privilege and power, paid for his Ivy League education, got him jobs and a home, raised millions of dollars for his political career, got him selected to address the DNC in 2004, got him into the senate in 2006, and led him straight to where he is today, just two years hence, on the verge of the US presidency, powered by hundreds of millions of untraceable overseas contributions.

In the minds of the leftist and Islamic leaders, he is the heir to the throne of "freedom fighters", the revolutionary prodigal son – heir to legacy of black powers and black Islam -- come home to rule.

Nothing short of a DNA test is going to prove who Obama Jr.'s father really is, or, indeed who is real mother is, or is not. His long-suppressed birth certificate, which he wrote about possessing in Dreams from my Father and which Hawaii now admits is on file, could help solve the mystery.

No one to my knowledge has explored the possibility that Stanley Ann may not be the birth-mother. That would explain the lack of hospital records in Honolulu and the fact that no one can remember seeing her pregnant. Suddenly she just appeared in Washington state with a little baby boy.

There is, too, a curious comment that Stanley Ann Dunham reportedly made after high school, remembered by a friend, that "I don't need to get married or date to have a baby." And the fact that in June 1960 her family – who were reportedly highly sympathetic with left-wing causes -- suddenly left Washington state for Hawaii, where they continued to be involved with socialist-communist causes and personalities, such as Frank Marshall Davis (identified by Obama only as "Frank" in Obama's Dreams from my Father), who proved so influential in his upbringing.

There is also new information, published in Atlas Shrugs and confirmed elsewhere, from the University of Hawaii that she was only enrolled only in the fall of 1960, and that from the Fall of 1961 (weeks after Barack Jr. was reportedly born) and through the following spring, she was enrolled at the University of Washington.

There is the fact that she abandoned this baby on repeated occasions, and the fact that Obama returned the favored when he refused to visit her as she sickened and died. If she was merely his foster mother, then she was just a means to an end, to be discarded when she had outlived her usefulness.

If Barack Hussein Obama II is Malcolm X's biological son, it would explain the mystery of why he was so generously helped by so many Arab and communist "friends in high places" long before he was a "somebody." Just as Malcolm X adopted Islam, his secret son would also need to learn its ways, and learn the ways of revolution, not just assume an Islamic name. He would need to be groomed and educated to organize the community called the United States of America.

Malcolm broke with Elijah Muhammad in large measure because the then-leader of the Nation of Islam had conducted illicit affairs and sired illegitimate children. If Malcolm himself had sired a boy, it is not something he would have wanted to advertise, or to bring along with him in his hectic and dangerous revolutionary path. But he may well have arranged to give the boy a first-class upbringing and education, free from the burden of his own violent legacy, his history as a convicted felon, his likely fate as a martyr, to realize the legacy he never could. He knew he was "a walking dead man," marked for death -- how could he perpetuate his principles beyond the grave?

Malcolm X was marginalized even from the black leadership after he said, following the assassination of John F. Kennedy, that the "chickens had come home to roost." That term would be resurrected by Rev. Jeremiah Wright, much to Obama's chagrin, in a sermon discussing the reasons for the Islamic attacks on the United States, reasons that Obama echoed in his own post-9/11 statements, in somewhat less inflammatory terms.

Malcolm himself was assassinated in 1965, reportedly by agents from the Nation of Islam.

If indeed Obama is not just Malcolm's spiritual son but his biological one as well, it would represent the realization of a lifelong preparation to seize power, not by guns but by genes, and the genius of Obama's handlers, mentors and assistants along the way who prepared his path to power.

According to this scenario, the sleeper agent is now wide awake, although it is also conceivable that Obama himself may not be fully aware of the role he was programmed to play. Nor is it clear who has supplanted his initial handlers -- which my source identified as East German and Syrian -- although the Saudis and their allies, including those within the US government and not just the Democratic side of the aisle, clearly seem implicated with pulling some of the strings and pouring some of the huge funding that has brought him to where he is today.

Those who have helped him reach to the threshold of power -- some knowingly and some "useful idiots" -- have been working in concert to fulfill the revolutionary goals of Malcolm's by putting his boy in power, using the system to destroy the system. Early voting. ACORN. Untraceable online funds. Brilliant. But that, of course, is just the means to the end.

Barack Obama wrote, in Dreams from My Father, of the huge impact this black revolutionary hero's memoir had on him, as none others did: "Only Malcolm X's autobiography seemed to offer something different. His repeated acts of self-creation spoke to me." Self-creation indeed.

If Malcolm X secretly sired Barack Obama, then the title Dreams from My Father would indeed take on a whole new meaning, with Obama Sr. revealed as a kind of paternal proxy, a stand-in for a revolutionary of a higher spiritual and political order whose identity the self-creating son could never reveal if his own ambitions, and his real father's ambitions for him, were to be realized.

In 1964, the year before his death, Malcolm gave an address, "Ballots or Bullets" (audio available here) in which he urged African Americans to turn away from violence and create revolutionary change through the US electoral system.

If the O is in fact an X, and wins the red, white and blue tic-tac-toe on Tuesday to become the President and Command in Chief of the United States then, truly, America's chickens will have come home to roost.

Red States may soon take on a whole new meaning.